I spent the morning poring through all of last night's Emmy red carpet coverage and, as always, the style did not disappoint. Very curious to see how they compare to E!'s Fashion Police at 10pm, but I stand behind my choices. In no particular order, Inside Jennifer's Closet Top 10 Emmy looks:
1) Sofia Vergara in Vera Wang: Sofia, I just LOVE that you listened to my advice in yesterday's column. Finally, a tasteful, yet stunning Vera Wang that highlighted every curve, yet kept the girls under control. Sofia was also on trend in the sea of red gowns last night, yet stood out amongst the multiple scarlet dresses. Brava!
2) Nina Dobrev in Donna Karan: Another gorgeous red dress, but on a rising star this time. I honestly had to look up Nina on imdb.com as I don't watch Vampire Diaries, but rest assured, after choosing this Donna Karan gown, she's already a household name.
3) Claire Danes in Oscar de la Renta: In contrast to the Emmys Red Sea last night, Claire looked amazing in a blue sequined geometric Oscar gown. Sometimes going off trend sets you apart from the crowd and she definitely stood out. Gorgeous again, Claire!
4) Cobie Smulders in Alberta Ferretti: Another vision in blue; this time, the electric variety. I loved the style of this dress along with the asymetrical knot-tied shoulders. Effortless and stunning. I'd also like to recognize Cobie as another Emmy breakout style star.
5) The Mad Men gals, Christina Hendricks in Johanna Johnson and Elisabeth Moss in Marchesa: On to the metallics I loved from last night. And apologies for making these two a package deal, but I just had to recognize both Mad Men gals for their similar looks. Christina looked as good as she ever has on the red carpet in a Johanna Johannson gown. My only criticism was her cleavage: certainly far more respectable than my last Christina column, but I would've liked to see the neckline an inch or two higher. She was getting dangerously close to showing too much of the girls.
Elisabeth dazzled in a vintage looking Marchesa gown. I loved the invisible detailing on the bodice and her retro pin curls. I could even see Peggy wearing a similar style on Mad Men!
6) Jane Lynch in David Meister: Jane worked exclusively with David Meister for her hosting duties last night. I wasn't a fan of the initial burgundy strapless number, but after her first wardrobe change, I thought she looked stunning in this silver metallic gown. Another starlet who clearly listened to my advice!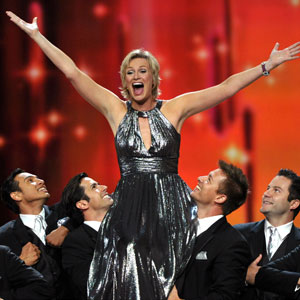 7) Julie Bowen in Oscar de la Renta: Another metallic stunner from Oscar de la Renta. Oscar's typically known for his voluminous ballgowns, but I loved both this sequined gown as well as Claire Danes' choice. Julie accessorized beautifully with a simple low ponytail and Neil Lane drop earrings. Perfect for an Emmy winner!
8) Martha Plimpton in Elie Saab: Martha won the "Where the heck have you been hiding that body" award. Most in my generation remember Martha for her 80's movies, but she scored a Best Actress nom last night. I honestly had to rewind my DVR to listen to the host announce Martha because I didn't recognize her at first. Might I say, wow!
9) Gwyneth Paltrow in Pucci: I already realize this is a controversial choice, but I loved this dress because it was so different. In my opinion, different in a good way. Also a sequined gown, but I was obsessed with the cutout black mesh at the waist. Gorgeous figure, gorgeous detail, gorgeous gown. (Now I'm ready to face the firing squad)
10) Zooey Deschanel in Monique Lhuillier: Last but not least, the adorably quirky Zooey Deschanel. I've been a fan of her unique style for some time and also thought this dress stood out as it was so different. It looked more Oscar than Monique Lhuillier, but I loved the color, the pockets and how she accessorized with her retro beehive hairstyle. I've seen it a lot lately, from the tributes to the late Amy Winehouse to my gal Bryce Dallas Howard in Kate Spade's campaigns. Again, an absolute standout last night.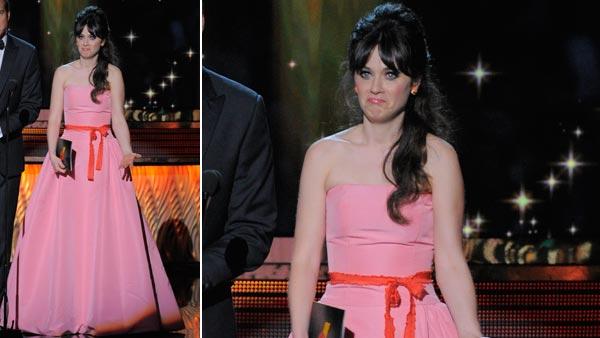 And there you have it…my Top 10 picks from the 2011 Emmys. Joan, Guiliana, Kelly, George…are you ready to face off? Bring it!
XOXO,
Jen