Greetings lovelies. It's official: Fall has hit the 212. Even though the weather's felt more summerlike this week, the season has undeniably changed with the usual flurry of events. Fashion's Night Out. Award Shows. Bible-thick magazines. And the glory of Fashion Week: the Spring 2012 collections. I need a vacation just thinking about it all.
With so many events happening, there was just no way to select a single look of the week. This week, LOTW brings you another style trifecta:
1) Beyonce at the VMAs (okay, I'm a little late on this, but haven't chosen a LOTW in a while!): Now being lauded as the best pregnancy announcement of all time, this was the bump seen around the world. Not only were Beyonce's PR tactics brilliant, but she looked incredible. The reddish-orange Lanvin dress was beyond flattering on her and the simple style suited her perfectly. Miss B. has gone way over the top with her style in the past, but motherhood appears to agree with her stylishly.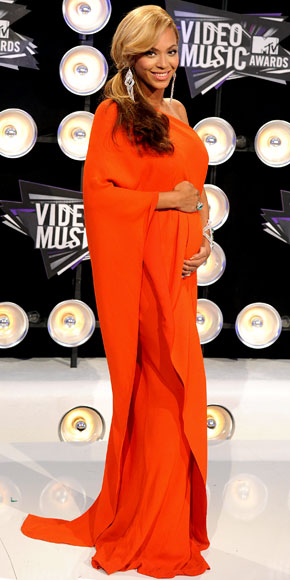 Photo by Getty Images
2) Rachel Weisz, October cover of Lucky Magazine: I'm aware that airbrushing likely plays a part, but the recent Mrs. Daniel Craig looks luminous on this cover and right on trend with a great nautical look. If this is what my 40's will look like, then sign me up. (Truth: I'm mere weeks from my late 30's and that's frightening enough!)
Photo by Lucky Magazine
3) Mandy Moore at the Lela Rose Show: There may be readers who think this is a stretch, but Mandy's been looking amazing lately. Clothes that flatter combined with a darker brunette 'do and classic red lipstick have transformed her into a celebrity to watch. Like Beyonce, Mandy looks fab in a reddish-orange dress paired with a great tan clutch and cool contrasting necklace. Caveat: I dislike her footwear choice, but am willing to give her a pass here. Keep up the great work, Miss Mandy!
Photo by zimbio.com
Enjoy the rest of your week all and this beautiful weather!
XOXO,
Jen