Tonight, tonight, the Golden Globes are tonight! True, the Oscars are the year's red carpet gold standard. But the Globes are my style Super Bowl, bringing together all of my favorite TV and movie stars in one delicious evening. And, an award show that includes adult beverages can only lead to memorable moments!
In anticipation of tonight, here are the Top 5 things I'm hoping to see on the red carpet. Drum roll please…
5) Tina Fey showing off her smokin' post-baby body: I am in love with Tina as an actress, but on the red carpet, my reviews aren't always so favorable. I saw her on Jimmy Fallon last week and her body was amazing just five months post baby #2. Yes, she was wearing black, her style safety blanket, but she looked incredible! Tina, I really hope to see you in a similarly body-conscious gown tonight in a color other than black. My top picks: scarlet red, cobalt blue or purple. Here's Tina in one of her more smoking past red carpet looks:
4) Rooney Mara wearing color, ANY color: Rooney is one of this season's emerging It Girls and pundits galore have been wagering what she'll select for her first Golden Globes nomination. Rooney, please, I beg of you – NO MORE BLACK!! Just pick a color…any color. Here she is at a recent event. Yes, she looks stunning, but like Tina Fey above, black has become her one-trick style pony.
3) Sofia Vergara controlling "the girls": Sofia is another lovely actress whom I've torn apart in the past. She has a voluptuous figure to die for and curves all in the right places. However, those curves need to be controlled or she'll be one misstep away from a wardrobe malfunction. But when she gets it right, she absolutely gets it right. Here she is at last September's Emmys, one of my favorite looks from that evening:
2) Glee Gals collectively stepping it up: For such a hit show, I can't understand why these gals don't have stylists fighting each other to dress the Glee stars. Now, Dianna Agron has had some hits (but more misses as of late) and Lea Michele is finally on an upward trajectory (and smiling!). But as an ensemble? Fail. The ladies of Mad Men and Modern Family put them to shame at the latest Emmys, so here's to hoping they'll step it up tonight as a team. For inspiration, Lea at the "New Year's Eve" premiere in December:
1) Zooey Deschanel remains true to her unique sense of style: Zooey is my #1 girl crush, most especially for her quirky, retro-inspired style. However, she took a lot of heat at the Emmys last Fall, at which I adamantly disagreed. Zooey, please don't listen to these "critics" and select a boring dress tonight. Your style is what makes you so memorable – don't change a thing! Here is the very Emmy look that was so controversial: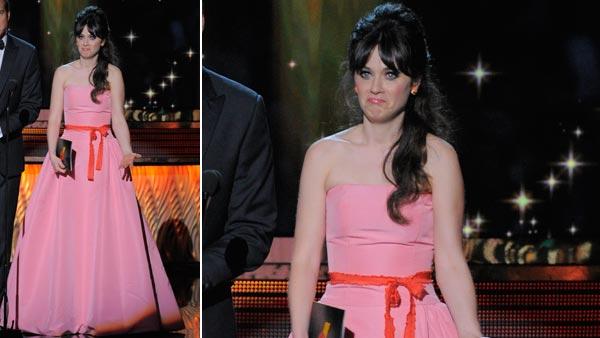 In the meantime, tick…tick…tick. Is it time yet for the red carpet?? I'll be live tweeting throughout the evening so if you don't already follow me on Twitter, I can be found at @IJCBlog. Happy Globes watching!
XOXO,
Jen