Happy New Year readers! With the New Year comes new trends and with that - a continuation of IJC's Twelve Days of Holiday Style. And just because the holidays have closed for another year doesn't mean that the trends won't carry forward into January and beyond.
As mentioned in previous blogs, the IJC Twelve Days of Holiday Style were inspired by Oscar de la Renta's Pre-Fall 2012 Collection. So these are exactly the looks you should be buying now to carry you through not just this winter, but into next winter as well.
My absolute favorite piece from the collection? Yes, I loved the sequins and light neutrals that I've already highlighted. However, I found one luscious dark horse amongst the other beauties: a water color garden print day dress that looked straight out of a Monet painting. Floral are everywhere right now, but the new watercolor is a very modern take on seasons' past. Here it is straight from the runway:
Photo courtesy of WWD
Now, finding this runway trend in more budget conscious versions has proved to be a bit tougher. But I think that gap is twofold: 1) This print is a bit more Spring than Fall (keep an eye out for spring though!) and 2) The best is yet to come – put this idea in the style vault and revisit for next Fall.
But I can't leave my readers empty-handed, so here are three great watercolor options. All are currently under $150, but as always, look for sales!
1) Short-sleeve Dress by ABS, $148 at Saks: Admittedly, this looks more Spring than Fall, but can easily be transformed with tights and either a velvet blazer or belted with a turtleneck underneath. And the 8% elastane (i.e. fancy word for spandex) will ensure a more custom fit.
2) Silk Pleat Skirt, on sale for $139.99 at J. Crew: Silk and pleats are a dry cleaning nightmare, but I really do love the luxe look of silk. I wouldn't wear silk every day, but think it's suitable for a now and then style upgrade. One other high point of this skirt: the crimson color, highlighted in the Fourth Day of Holiday Style. It's an easy way to translate a watercolor floral, which is typical in the cool color family, into a Fall staple.
3) Luxe Scarf with Twisted Fringe by Rachel Zoe, $35 at QVC: Scarves are an easy and low-cost way to test drive a new trend. And while this scarf comes in four colors, the navy watercolor is my favorite.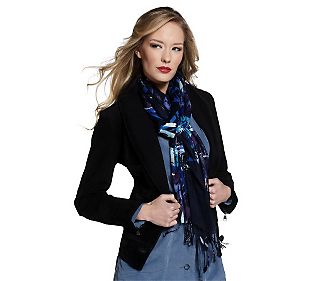 What's next for the Seventh Day of Holiday Style? Stay tuned and find out!
XOXO,
Jen