It's been quite a few weeks since I've covered a Fashion Don't – or "What's Up With That" as I refer to these burgeoning disasters. So, I figured it was high time to select another celebrity candidate…and this nominee grabbed my attention not for the style of her dress but rather the terrible fit.
Readers, I present to you one Miss Christina Hendricks at the "I Don't Know How She Does It" premiere last week. Her usually lovely lady humps (on top) were, in a word, obscene in the dress below. While it cinched her waist magically, her bosoms were just about to explode out of the bodice. I mean, it had to be about four sizes too small on top. One word dear Christina: tailoring! It works magic.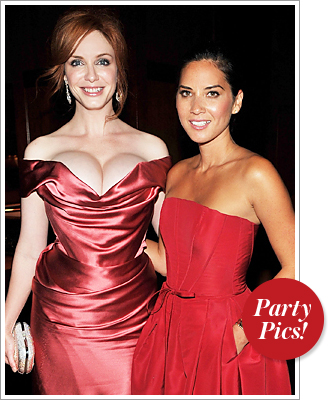 Photo courtesy of InStyle
Me no comprende. Christina's been looking amazing lately, most especially on the August 2011 cover of Lucky Magazine. Like her iconic Mad Men character, she's been dressing so well for her figure and showing off her curves in the very best way. I'm sure you'll agree:
Photo courtesy of Lucky Magazine
Dear Christina, I think you're a gorgeous, voluptuous woman in the very best way and really look forward to seeing your Emmy style choice. But please, for the love of God, tame the girls!
XOXO,
Jen