Yesterday's column reviewed my own beautiful purple winter coat. Today, dear readers, my Top Five coat selections currently in stores! Following my own advice and the current winter trend of brights, I present to you five gorgeous options all under $200.
1. French Connection, $199 on sale from $368: I nearly bought this coat at the end of last season, but red really isn't my color. However, if you're an Anne Hathway lookalike with dark hair/eyes and porcelain skin, this is a perfect choice. Also, note that it's going to look better on those apples out there as opposed to pear shapes. The positives: the ruffle collar detail sets this coat apart from the crowd and quality of this brand is very good for this sale price. 

2. Debenhams, ~$125 including international standard shipping: I have to credit my fabulous new assistant Paige on this find. I wasn't aware of this UK brand and am so thankful she has some tricks up her sleeve. Thanks doll! So the coat: cobalt blue is everywhere this season and still, since making a return back in 2008. I'm not familiar with the quality of their merchandise, but for $125, it's worth a try. Wear it to death this season and here's to hoping it lasts 'til next winter!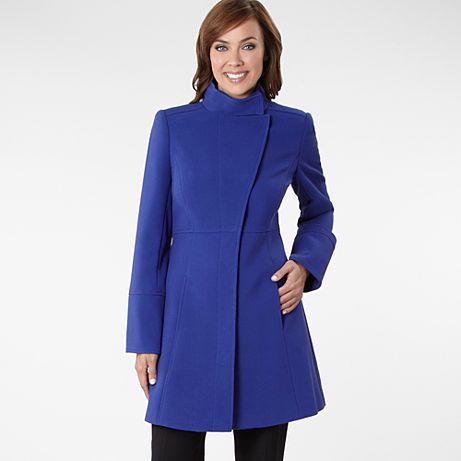 3. Tradeage, ~$90 including international shipping: Yet another new score from Miss Paige. This Hong Kong apparel wholesaler sells direct to consumers. In non-retail geek speak, that means: you'll pay less by buying direct from them as opposed to a retail store. Amazing. This coat also falls into the "hope for the best" category at a mere $90 including shipping from HK. I am loving the bright yellow color, sure to be a standout in situations as diverse as being noticed in a bar to being rescued in a whiteout N'oreaster. : )
4. ASOS US, ~$120 plus shipping: I've been a fan of ASOS for some time. But based in the UK, it was another of my international shopping stock-ups while on business trips. Now, however, you're in luck! They've launched a US-based website shipping anywhere in the 50 states. Score! I am also obsessed with emerald green, so immediately was drawn to this green beauty. Not only is this coat a standout color, it's so practical with a foldover neck included. Scarves are a must in my part of the world, but this feature negates the need.
5. Zara, $129 : It's amazing this coat hasn't sold out since it was recently spotted on Pippa Middleton. But alas, it is still very much available. And Zara is synonymous with quality at a reasonable price, so get this coat while it's hot! The style is simply classic and punchy orange hue can't help but brighten a dreary winter day.
That's where I call it a day. Great weekends to all and be sure to check back Monday for a springy trend popping up just in time for winter!
XOXO,
Jen